Discount Programs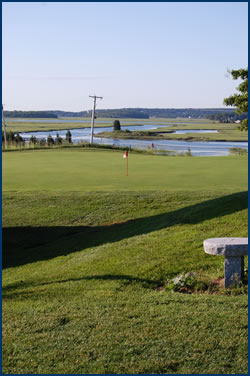 WEEKEND CONTRACT TIMES
The weekend "Contract Time" program allows a foursome to secure a regularly scheduled starting time on a Saturday/Sunday of their choice. The program duration is (30) consecutive weeks (April 4 - October 25), but excludes the Club Championship weekend (August 1 - 2). The group must guarantee a foursome for a minimum of (26) weeks. Only times prior to 10:00 a.m. may be selected. The selected time will apply to the "peak season" weeks (April 25 - August 8). Times may vary slightly during the "shoulder seasons". Each golfer must bank a $80 deposit with their application. The deposit money will be used to pay for the final two weeks of play, less any no show charges.
"WALK THE WALK"
This program is for late day play, walking only. The first available daily time varies by the season. All play is offered on a first come first served basis. Play as many holes as sunlight allows for the reasonable price of $18. Check the bulletin board or call the Golf Shop at 781.544.0032 for the current start time.
PLAYER'S PASS PROGRAM
Golfers with plans to make frequent visits to Widow's Walk within a one year period now have the choice to prepay green fees with significant savings. There are four available options including 9-hole, 18-hole, weekend, and weekday play. Select the plan that best fits your golf schedule. Each option offers commitment levels of 10, 25, or 50 golf rounds. Discounts increase with the level of commitment. Prices start at $209. Savings up to 40%.
ROUNDS
TOTAL PRICE
% SAVING
A. UNRESTRICTED 18-HL
10
$425
15
25
$925
26
50
$1,599
36
B. WEEKDAY 18-HL & WEEKEND AFTER 2PM
(W/E includes major holidays)
10
$329
18
25
$725
28
50
$1,199
40
C. UNRESTRICTED 9-HL
(9-hole advanced tee time reservation restriction applies)
10
$239
15
25
$549
22
50
$999
29
D. WEEKDAY 9-HL & WEEKEND BEFORE 8AM OR AFTER 4PM
(W/E includes major holidays - W/E morning starts from #10 tee only)
10
$209
13
25
$475
21
50
$849
29
**(50) play passes may be shared with anyone, up to four redemptions per visit**
**(10) & (25) play passes may be shared with a spouse or dependent child only**
**Passes are valid for one year from the date of purchase**
PAYMENT BY: CASH, CHECK, OR DEBIT CARD - NO CREDIT CARD PAYMENTS PLEASE
JUNIOR DISCOUNTS - Ages 17 and under
See our green fees tab for information.
SENIOR DISCOUNTS - Ages 65 and over
See our green fees tab for information.