Course Description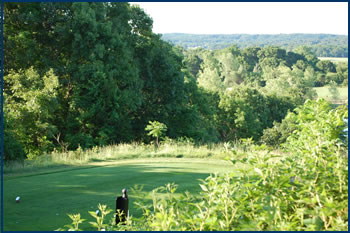 Playing golf at Widow's Walk is much like driving a 600-horsepower car on a twisty road. Both reward finesse over power. To golfers, this requires hitting the ball straight off of the tee.
Widow's Walk is an environmentally friendly links-type course, meandering through undisturbed wetlands and sand dunes with the holes laid out to fit among the site's natural resources.
The 6,403-yard, par-72 layout has some challenging holes and being so close to the ocean, wind often comes into play.
There are four sets of tees—measuring from 4,562 yards from the yellow blocks, to just over 6,400 yards from the blue blocks, allowing golfers of all ages and abilities to enjoy their round of golf.
With four sets of tees for each hole, now offering six course yardage choices with the recent addition of two blended tee options, the staff suggests that each player select the tee appropriate for his or her playing ability for maximum enjoyment. Although the tee choice is a player option provided they are able to keep up with Widow's Walk pace of play standards. Widow's Walk subscribes to the USGA "Play it Forward" initiative, which encourages golfers to play from their most enjoyable course yardage, even if that requires one to create a starting point forward of our most forward teeing area. General recommendations are as follows:
BLUE tees for men with handicaps of 7 and below.
WHITE tees for men with handicaps of 8 to 17; and women with handicaps of 5 and below.
WHITE/SILVER for men with handicaps of 18 to 23; and women with handicaps of 6 to 11.
SILVER tees for men with handicaps of 24 to 29; and for women with handicaps of 12 to 17.
SILVER/YELLOW for men with handicaps of 30 and above; and women with handicaps of 18 to 23.
YELLOW tees for novices, women with handicps of 24 and above, and men that would add enjoyment to their round.
Whether you're a regular visitor, or you're playing here for the first time, we trust that your experience will be athletically challenging and aesthetically pleasing.
---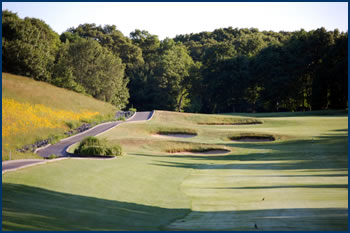 RATINGS & SLOPE
Men's Ratings & Slope
Blue Tees Rating: 71.9 Slope:144
White Tees Rating: 70.3 Slope: 141
White/Silver Tees Rating: 68.7 Slope: 132
Silver Tees Rating: 67.3 Slope: 126
Silver/Yellow Tees Rating: 64.5 Slope: 122
Yellow Tees Rating: 64.0 Slope: 116

Women's Ratings & Slope
White Tees Rating: 76.8 Slope: 143
White/Silver Tees Rating: 74.2 Slope: 137
Silver Tees Rating: 72.5 Slope: 133
Silver/Yellow Tees Rating: 69.3 Slope: 126
Yellow Tees Rating: 67.4 Slope: 119